My Fair Lady
'The perfect musical'
Overview
Since it stormed Broadway in 1956, Lerner and Loewe's irresistible musical version of George Bernard Shaw's social satire Pygmalion has become a monument of musical theatre. For the Festival in 2020, we present it as a staged concert, with the action of the characters sharing the stage with the Bournemouth Symphony Orchestra and The Grange Festival Chorus.
Alfonso Casado Trigo, who led our Candide so winningly in 2018, conducts. Expect a cast to die for and an evening to savour deep in our hearts and long in our memories.

Supported by — The Nightingales, Skylarks and Goldcrests
Composer — Frederick Loewe
Librettist — Alan Jay Lerner
Orchestra — Bournemouth Symphony Orchestra
Language — Sung in English
Synopsis
When Lerner and Loewe's My Fair Lady opened on Broadway, it collected six Tony Awards, including Best Musical, while the film version took home eight Oscars, including Best Picture.
Based on George Bernard Shaw's play Pygmalion, My Fair Lady is that rare musical by which all others are measured. The tale of a cockney flower girl transformed into an elegant lady features one of musical theatre's greatest scores, including: "Wouldn't It Be Loverly?", "With a Little Bit of Luck", "The Rain in Spain", "I Could Have Danced All Night", "On the Street Where You Live", "Get Me to the Church on Time" and "I've Grown Accustomed to Her Face".
Eliza Doolittle is a young flower seller with an unmistakable Cockney accent which keeps her in the lower rungs of Edwardian society. When Professor Henry Higgins tries to teach her how to speak like a proper lady, an unlikely friendship begins to flourish.
Films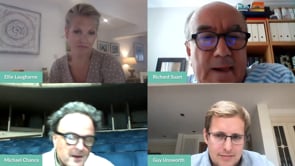 The Grange Festival 2020 | My Fair Lady Podcast
Join Michael Chance as he talks to Director Guy Unsworth and performers Ellie Laugharne (Eliza Doolittle) and Richard Suart (Colonel Hugh Pickering)
Stay connected
Join the Grange Festival community and stay connected to a world of enchanting performances and exclusive events.